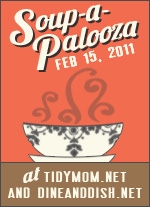 "Come join Soup-a-Palooza with TidyMom and Dine and Dish sponsored by Bush's Beans, Hip Hostess, Pillsbury and Westminster Crackers"
Go over to TidyMom and DineandDish for more great soups for Soupapalooza!
This is one of my favorite soups. I love it, and you just dump everything in a crock pot (except the onion and tomatoes that I mince in a food processor!) I ate two bowls, and I would have had it for lunch the next day, but Edwin beat me to it! :)
Crockpot Taco Soup
1 small onion; minced
1 can chili with beans
1 can black beans; drained
1 can creamed corn
1 can corn
1 can chicken broth
1 can diced tomatoes; minced
1 pkg (1.25 oz) taco seasoning
1 pound beef
Cook beef in a skillet; meanwhile, put all ingredients in the crockpot! Stir to combine, then add the beef. Stir in Taco seasoning, and cook about 4-6 hours on low. so easy; so good!
Serve with LOTS of tostitos chips crumbled in soup and cheese!