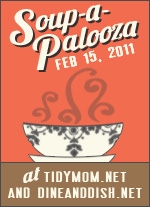 Need some good soup recipes?! It's soupapalooza over at
TidyMom
and
DineandDish
, so hop on over and check out all the soups! Include "Come join Soup-a-Palooza with TidyMom and Dine and Dish sponsored by Bush's Beans, Hip Hostess, Pillsbury and Westminster Crackers"

Okay, so I"m sure we all have a Chili recipe right?! BUT, if you don't and you're looking for a new one, give mine a try! My husband loves it and we've both "tweeked" it to our liking.

Chili
What you'll need:
2 lbs. ground sirloin
1 onion, finely chopped
1 garlic clove, minced
1 can tomato sauce 

1 cup tomato soup
1 cup water
3 Tbs. chili powder
1 Tbs. salt
1 Tbs. paprika
1/2 tsp. freshly ground pepper
1/4 tsp. cumin
1/4 tsp. cayenne 

1/4 cup masa flour mixed with about 1/2 cup water (this is a mexican flour)
1 can chili with no beans
What to do:
Saute meat in large saucepan. Add onion and garlic and cook until onion is soft. Stir in remaining ingredients (except flour and water mixture), cover and simmer 1 hour. Remove lid and simmer until excess moisture evaporates (don't let it get too dry). Add flour and cook until thickened, 5 to 10 minutes.
We love serving our chili with fritos and some cheese :)